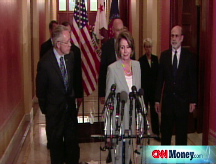 The US Federal Reserve Bank, responding to news that federal government will soon be unable to afford any more corporate bailouts or Central Asian wars or bridges in Alaska without significantly raising taxes and/or increasing foreign debt, has stepped in, for the first time, in asking the government and private citizens to stop buying stuff they cannot afford.
Citing the current $9.6 trillion Federal budget deficit not being seriously discussed during this relatively uneventful election, the Fed warned against spending more money that the US doesn't have on something else the US cannot afford, like a big fence along the border with Mexico, a missle defense shield that doesn't work, etc.
Many in the financial world were confused by the strategy which Democrats and Republicans both quickly condenmed as "voodoo economics". A Democratic Party spokesperson was quoted as saying that the Federal Reserve leaders were clearly "out of touch with the average American" and Republican party leaders unanimously referred to the plan as "un-American".
Under pressure from the White House and the US Tresury Department, the Fed is likely to reverse this position in favor of a plan that asks millions of Americans to pay for bailout they cannot afford, caused by people buying things they cannot afford, using money the US doesn't have, in order to boost confidence in the people in China (who will lend the US money to pay for something the US can't afford), leaving future generations of Americans with something else they can't afford - a plan with overwhelming bipartisan support in both houses of Congress (just in time for the election in November).
News of such a plan sent markets in Asia soaring as many see a US plan to buy something it cannot afford as going along way in restoring confidence in a world-wide economic system based on the US buying things it cannot afford.
As the US government moves in, once again, to take over failing, private, unregulated enterprises, it only goes to show what we in the Ministry have been saying for years...
"Free-market problems demand Control-market solutions".
The Ministry of Information
"more power to the misinformed"